EVAPORATIVE GAS COOLING
COOLING CONTROL®

Although evaporative cooling and conditioning systems have existed in the cement industry for many years, they have been a constant source of problems that cause plant managers and filter manufacturers alike to fear the words 'water sprays'.
The reason was twofold: first, precise quantitative data required to properly size conditioning towers have never been available, and second, spray nozzles generally available to designers have lacked the very basic qualities required for good reliable gas conditioning systems.

After COOLING CONTROL® existence in the market for any type of Evaporative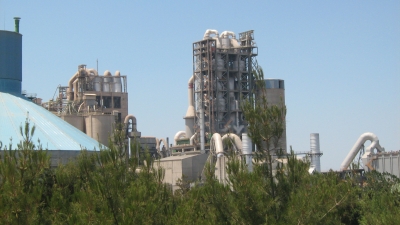 Gas Cooling for Cement and Mineral Industries, Steel Industry, Power Plants, Incinerators, the total philosophy has been altered to the new horizons.

The primeness of our Heat Balance Calculations for a desired temperature reduction has proved many successfull installations consisting of superior quality components used in our systems.

One of the main misguiding discussion of Evaporative Cooling is to cool the gases by single fluid or double fluid mix.

Cooling can be achieved either by single fluid (generally water) or double fluid (generally water & compressed air mix). There are certain factors to continue with single or double fluid evaporative cooling. Both types have its own advantages depending upon the system requirements. Unlike the biased approaches of conventional system manufacturers, we as COOLING CONTROL® are focusing the whole points to analyse all technical parameters, investment and running costs, and finally prepare a technical and commercial report with the answers of how and why.
The Evaporative Cooling is applied in most cases to cool the kiln gas or gas from any combustion source before it enters to Baghouse Filter or Electrostatic Precipitator (ESP). Gas cooling can be achieved in several suitable
locations where mostly water is sprayed on to hot gas in order to reduce the temperature and volume of the gas within precisely calculated reaction length to guarantee full evaporation.
COOLING CONTROL® evaporative cooling systems (Monocool or Duocool) are sized and perfectly designed to serve trouble-free operation providing efficient heat transfer to enable desired temperature reduction. The following calculations are derived from our software developed by our expertise and experiences.
Although evaporative cooling is always an inevitable need before the ESP's and Bag Filters, our team has invented a new approach early 2000 especially for CEMENT PLANTS to apply it in the TOP CYCLONE.

The gas cooling in the TOP CYCLONE (CYCLONECOOL™) purely means great deal of energy saving or plant capacity increase or reduce of recycling ratio in the line. Please visit the Gas Conditioning In Top Cyclone section of our website for further details.
We as COOLING CONTROL® size, design, manufacture and implement site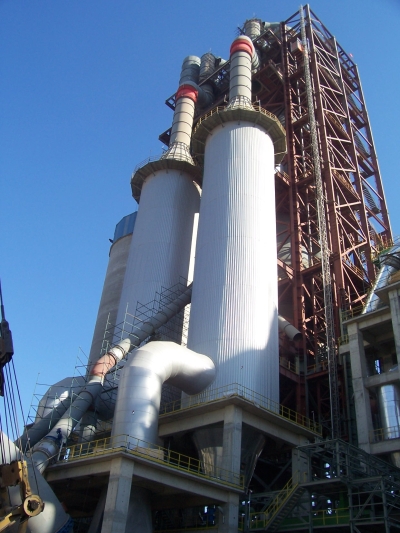 installations of Evaporative Gas Cooling Systems
All necessary items such as high performance new generation lances, ultra fine spraying capable spray nozzles, multistage HP pump stations and all related hyraulic components, control valve stations, actuators, magnetic
flowmeters, duplex filters, all electrical wiring together with or without PID controller or PLC, or just the control logic to adopt to the existing PLC in the plant's main control room, are delivered to our customers almost as ready-to-install and just utilize systems.
If required, the superior planning schedule with our customers concludes the system installation at any time as the plant is running without the need of stopping the kiln. Please ask for further details and feel free at any time to contact our team.